A late eighteenth-century feudal-lord Tea-practicant, Matsudaira Sadanobu, has left us the following sage admonition that concisely captures the essence of Japanese food etiquette, and proper behaviour when dining out:
As host any guest's blunder
is ultimately your own
As guest any accident caused
by your host is the fault of you and your fellows

This should be well thought over
and taken to heart

His guests' feelings no perfect host
ever ignores while admirable guests
strive always to become one
with the intentions of their host
Forget about popular marketing phrases as 'customer is king', because the customer is no more 'king' of his seat at the table than the chef is in his kitchen. Everyone part of the event, ea. your fellow guests, the cooks, the waitresses, are equally responsible, and are equally vital to the successful conclusion of a delightful evening.
Without the cook, you won't have food. Without the waitresses, the food would remain in the kitchens. And without YOU, there would be no use for the chef to prepare food. But that makes no one more or less important to the occasion. The elementary courtesy when enjoying a traditional kaiseki meal is to show consideration for the other people part of this occasion. Be thoughtful of ways to make it easy for them to do their job. In the end, the better they can do their job, the more you get to enjoy your evening.
So, how do you do this? Here are a few simple Japanese food etiquette tips to observe when invited to your first kaiseki meal.
About using chopsticks
When your kaiseki tray is first set out your chopsticks are positioned over the right edge of the tray. When you temporarily place your chopsticks down after you have used them, place them with the tips out over the left edge of the food-tray. This is to prevent the tray from getting unnecessarily dirty.
When there are chopstick rests available, use one to deposit your chopsticks on instead.
When serving chopsticks are provided, use them to take food onto your plate. In the case that they haven't been provided, there is no need to use the back of your chopsticks to take food from a shared plate. However, when with the 'hassun' course bamboo chopsticks are provided with tips on both ends of the sticks, you use both sides. Doing this prevents the smell of fish to attach to vegetables. So, you use one side for fish, and one side for vegetables. When revolving the chopsticks, be careful not to touch the tips on either side, but handle them in the centre.
Japanese food etiquette – comportment
Sit upright and handle your bowls and dishes with great care when eating. When picking up food with your chopsticks, don't use your bare hand to catch any drops when carrying it to your mouth. Instead prepare a piece of kaishi breast paper to hold underneath .
Take a piece of kaishi paper and fold it in half, folding the upper half slightly to the right. Then fold the piece vertically in half again. Prepare this piece of paper before you start eating, and interpose it partially under your tray in front of you. When the food is difficult to eat, it is okay to lift the bowl closer to your mouth.
About the order in which to receive your food
Consume the things that are served cold while they are cold; and enjoy the things that are warm when they are warm. The basic courtesy is to eat the food as soon as it is served. Great care is taken by the cook to serve the food at just the right temperature to be most delicious. It is a sign of respect from the guest to acknowledge this by savoring each course as soon as it has been presented to you.
Especially with the clear broth soup it is important to first enjoy the scent of its fragrant garnish. Then take a sip of the soup and then consume its ingredients.
Japanese food etiquette – The way of eating
Use your chopsticks to break down large chunks of food into bitesize pieces. However, when you divide the food into too small compartments, it becomes difficult to pick up with your chopsticks. Additionally, the original flavor may become diminished. This also counts for when eating your sweets during a tea occasion. The common rule is to divide your sweet into three equal pieces and have it in three mouthfuls.
To skilfully consume a whole fried fish, we suggest to first consume the upper layer of meat. Then remove the bones, and receive the lower layer of meat. In the case you need to hold the fish down, use a piece of kaishi breast paper or similar. Otherwise this will make your fingers will make them smell.
Foods on a skewer too need to first be removed from the skewer using your chopsticks. Don't nibble it off directly from the skewer.
How to handle lids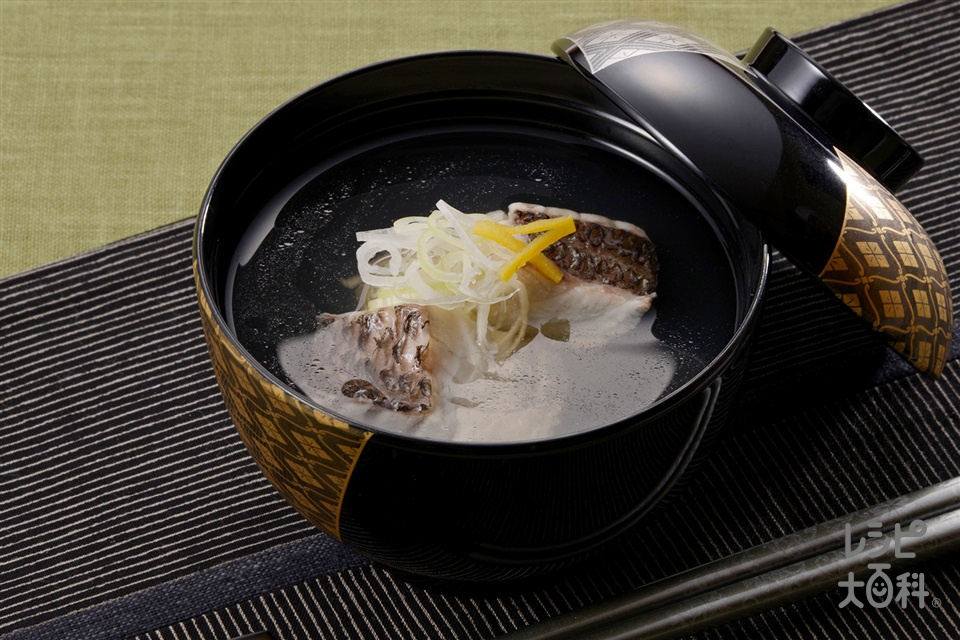 When taking the lid off a lidded vessel, hold the vessel down with your left hand. Lift the lid off with your right hand from the left side first. Let the drip fall into the bowl from the right before turning it upside down with both hands. Place it down besides the bowl. When having finished with the food, place the lid back in its original position on the bowl.
Sometimes we use the lid as a serving tray to carry food to your mouth. However, when it has lacquer decoration on the inside we suggest not to use it as a tray.
What to do when you can't finish everything
If there is something that you can't eat, offer it to someone who could have it before touching it yourself. Let that person take it off your plate with their chopsticks. Never pass anything from chopstick to chopstick.
When you can't finish the whole portion, tidily leave it on your plate. For example, when you can only have half of your bowl of rice, tidily leave the other half in place. Or, when you have discovered a piece of spring onion after you have started eating, and you don't like spring onion, gather it to the side of your plate. Doing this neatly helps the cook with clearing up. It also conveys a message of respect and appreciation for his food.
Japanese food etiquette – final thoughts
If you have allergies, or should there be anything you can't eat out of preference, then it is best to tell the waitress beforehand. When the food is delicious, offer sufficient words of appreciation to whomever is serving you.
Foods as bamboo shoots and lotus root may be too hard to cut with your chopsticks. You can bite-off pieces you can have. But, finish it entirely without returning it partially to your plate.
When food doesn't easily come off the skewer, it is best to have it directly from the pick. In this case, use a piece of kaishi breast paper to conceal the action.
The rules presented above are but guidelines to convey the correct message of respect and appreciation to your fellow guests, the waitresses and the cooks. The best approach is an ad hoc approach, keeping in mind the essential mentality presented at the beginning of this article. The most important aspect of enjoying a kaiseki meal is to effectively enjoy your food with a feeling of gratitude, and without being rude or unthoughtful to the ones accompanying you.
More on etiquette: Basic Japanese Tea Ceremony Etiquette